NEW MUSIC VIDEO AND SINGLE
"WAITING FOR YOUR LOVE"
RELEASED FRIDAY MAY 21, 2021
STREAM/DOWNLOAD THE SINGLE
TAKEN FROM THE FORTHCOMING ALBUM
"... THE FIRE COSMIC!"
RELEASED AUGUST 6, 2021
PRE-ORDER THE ALBUM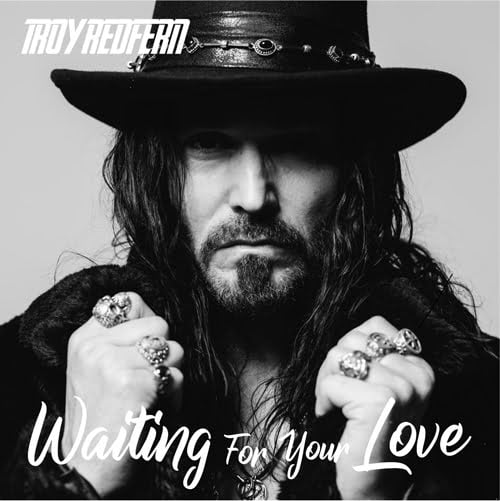 "Redfern combines the rawness of Hound Dog Taylor, the freeform approach of Sonny Sharrock, the firebrand playing of Johnny Winter, and the technique of Dave Hole with the ghost of Elmore James." - Get Ready To Rock
Today, the British slide guitarist and singer-songwriter, Troy Redfern, dubbed by the British press as "the king of slide guitar," releases his new single Waiting For Your Love. The single is accompanied with an official music video which can be seen HERE.
Waiting For Your Love is the first single is taken from his forthcoming album The Fire Cosmic released by RED7 Records on Friday August 6th.
Described by Troy as, "a bombastic, sassy blues rock boogie," Waiting For Your Love, is available to stream and download HERE. Pre-order the "The Fire Cosmic" album HERE.
"I wanted to try and capture the visceral vibe, atmosphere and swagger of this song," says Troy about the music video for Waiting For Your Love. "It's dark, moody and is chock full of rock 'n' roll attitude. When we recorded the track at Rockfield Studios we played it totally live to get that raw energy you can only get when you're all playing at the same time. When we made the video, I wanted a visual representation three guys in a room sweating it out and hitting it hard."https://www.youtube.com/embed/d4-QE8uvfyw?autoplay=1
Continues Troy, "What you see in the video is a true representation of this band. It's a no-frills, honest delivery of a ballsy blues boogie. It was also great to feature my '29 National Triolian resonator guitar used on the actual recording. That beat up old guitar has so much mojo. Darby Todd (Devin Townsend, The Darkness, Paul Gilbert) brought his vintage, acrylic Ludwig Vistalite drum kit along for the shoot. These kits were made famous by the late great John Bonham and sounds massive. Darby used this drum kit for the entire album, not only does it sound huge, but it looks amazing, we had to have it in the video!"
The new album follows five unprecedented albums that Troy released in 2020. It was recorded at the legendary Rockfield Studios in North Wales, the same studio where Queen recorded all their early albums including Sheer Heart Attack (1974) followed by A Night At The Opera (1975) – the latter featuring the legendary single Bohemian Rhapsody.
For the recording of the new album, Troy enlisted one of the best rhythm sections in the UK, including the legendary Darby Todd on drums (The Darkness, Robben Ford, Martin Barre, Paul Gilbert), virtuoso bass guitarist Dave Marks (Hans Zimmer), and guitarist Ron 'Bumblefoot' Thal (Guns 'N Roses, Asia, Sons of Apollo), in what Troy describes as "the ultimate dream team" what is arguably the British guitarist's most distinctive and powerful release to date.
Says Troy, "I chose Rockfield Studios because so much of the music I grew up listening to was recorded at this legendary studio (Queen, Black Sabbath, Mott The Hoople). The studio is hallowed ground for every musician, and the rooms there are charged with so much magic and history of all the iconic, classic albums that have been produced there."
"It was important for me to capture the raw energy of three guys playing live in the same place, at the same time. That's something that you just can't get if you're sending files from different locations, it doesn't have the same vibe or feel if you do it that way."
As soon as we arrived at Rockfield, everyone, including Darby and Dave who've recorded all over the world, were excited to be there," continues Troy. "It's that kind of place. It has that effect on every musician who records there. Even before we started recording, the energy and vibe was there, which definitely set the tone for the entire album."
Troy has cut his teeth and refined his style over the last few years, playing festival main stages and blazing a trail across Europe, Scandinavia, and Russia. He's also become a well-known draw on the UK Blues Rock festival circuit, playing alongside rock luminaries including Robert Plant.

"Troy is a passionate, intense, free-spirited musician whose ferocious slide guitar style twists and turns timeless themes and ideas to his own ends. He's a musical visionary unafraid to trample on the boundaries of restricting labels," said Blues Matters Magazine.
The forthcoming studio album is a culmination everything Troy has learnt so far on his musical journey, and, more importantly, brings into sharp focus a much tighter song-writing and more visceral, muscular production style.
For production duties, Troy enlisted the Brighton- based producer Paul 'Win' Winstanley, best known for his epic rock production style, and whom Troy met and had worked with previously on the 2019 RHR album, Hotel Toledo. Troy and Win bonded immediately, and shared the same musical aesthetic, no nonsense work ethic and dry sense of humour.
Rockfield's vintage mics, mixing desk, and analogue outboard gear gave Win options to capture the dynamic performances on the album. "It was like being a kid in a candy store," says Win.Photo Credit: © Haluk Gurer
"It was important for the album to sound massive," says Troy. "It was a much bigger sound than anything that I've released before. As soon as we heard the first takes in the control, we were blown away. We knew that we captured something special. It sounded fantastic."
"For the session, Darby Todd brought his vintage Ludwig Vistalite acrylic drums of John Bonham fame. The drums are renowned for sounding massive. Hearing them in one of the best drum rooms in the world, they sounded out of this world! Roger Taylor's drums recorded for Queen's Sheer Heart Attack album at Rockfield are some of my favourite drum sounds on any recording."
Ron 'Bumblefoot' Thal states, "It all starts with the drums, if you've got a great drummer, great sounding room, great board, it's going to sound phenomenal, and it does!"
"I met Ron at a festival in Poland that we were both playing at, we immediately hit it off," recalls Troy. "He let me use his signature double neck guitar to play on Anthony Gomes encore set at the festival, that was an absolute blast. He's such a cool, generous guy. When I returned to the UK, I emailed him to ask if he'd like to play on my new album. He was totally fired up to do it."

Troy continues, "The album really is a step up. It's the best album I've made. Hiring Rockfield, getting the best players, the best producer – it was a risk, but it paid off tenfold. I've made an album I really couldn't be happier with."
"With all the hard work that went into getting this album to sound as great as possible, there was only one option when it came to mastering. I decided to hire Frank Arkwright (Biffy Clyro, Oasis, Iggy Pop, Paul Weller, System of a Down). Frank is the senior mastering engineer at Abbey Road. The mastering at Abbey Road added that final sheen. Frank did an absolutely amazing job in bringing out every nuance of the recording."
"When it came to the album artwork, I was originally going to get an artist from Brazil to do it for me, however, I started working on some artwork of my own in the silver age Marvel comics style, based on the four guys that were on the album. I posted a few visuals on the socials and was overwhelmed by the response.
It was a huge kick getting responses from Joe Satriani, Richie Kotzen and my slide guitar hero Denny Walley of Frank Zappa fame. As a result, I created my own comic-style illustrations to package the album."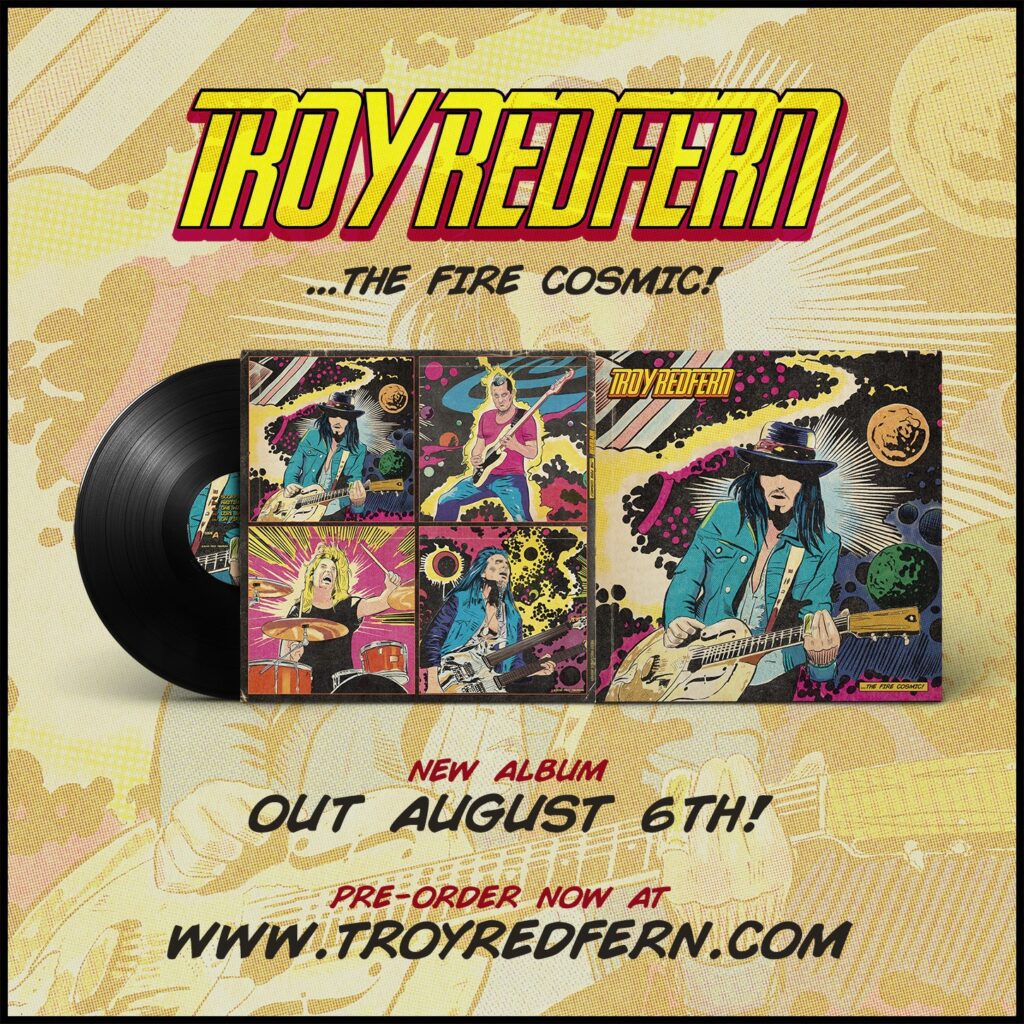 MUSICIANS
TROY REDFERN – VOCALS, GUITARS
RON 'BUMBLEFOOT' THAL – GUITARS (TRACK 5)
DARBY TODD – DRUMS
DAVE MARKS - BASS, PIANO, KEYS, PERCUSSION
RECORDED & MIXED AT ROCKFIELD STUDIOS BY PAUL 'WIN' WINSTANLEY
ASSISTANT ENGINEER – JOE JONES
MASTERED BY FRANK ARKWRIGHT AT ABBEY ROAD STUDIOS
TRACK LISTING
1. SCORPIO (4:50)
2. WAITING FOR YOUR LOVE (3:34)
3. ONE WAY TICKET (3:50)
4. LOVE & WAR (4:37)
5. ON FIRE (4:09)
6. LAY THAT LOVE DOWN (3:23)
7. GHOSTS (4:02)
8. SAVING GRACE (4:07)
9. SANCTIFY (3:46)
10. STONE (5:50)
Photo Credit: © Rob Blackham
...THE FIRE COSMIC!
TRACK BY TRACK
SCORPIO
A rip-roaring "rockabilly on steroids" opener. Like a tequila-drenched, mescaline-fuelled hot rod race through the Mexican desert at sunset, Scorpio sets up the sonic tonal landscape for what's to come.
WAITING FOR YOUR LOVE
This bombastic blues boogie has the swagger and attitude of an anti-hero from an old western movie. Driven by Darby Todd's Ludwig Vistalite drums, Troy's vintage 1929 National Triolian steel guitar cuts through the mix like a samurai sword to deliver this heavy hitting, sassy blues explosion.
ONE WAY TICKET
It's a straight up four on the floor rocker, bristling with a fierce slide guitar attitude and a monstrous hook laden chorus, which deals with themes of overcoming obstacles and breaking through.
LOVE & WAR
Love & War is a powerhouse blues/rock tune based in the infamous Purdie Shuffle drum groove. Its verse is a straight up blues field holler morphing into an epic 'wide open skies' feel chorus. The guitar solo in this song has a distinct free form feel that builds, twists and turns as it reaches its sonic climax.
ON FIRE
This is the point in the album where the full moon rises, and things turn deliciously heavy and feral. Featuring guitar legend Ron 'Bumblefoot' Thal on guitar (Guns N Roses, Asia, Sons of Apollo) who adds his distinctive virtuosic fire brand stamp, playing his signature double neck guitar.
LAY THAT LOVE DOWN
Things turn funky! Like a party Lenny Kravitz threw for the Black Crows, Lay That Love Down is an upbeat slinky rocker with a good time, sunshine feel. Stratocaster vibes and a blistering slide guitar solo along with a big, sing along chorus make this one an instant crowd pleaser.
GHOSTS
Conjuring up visions of the wide-open plains, Ghosts is a western story about escaping a doomed relationship and heading off into the sunset horizon. From the opening 'train track' beat, to the searching guitar solo and the epic chorus, this song has that 'sunshine after the rain' feel.
SAVING GRACE
This track was recorded using close mic'd acoustic guitars, a Maton six string and a 1929 National Triolian, and has a deeper, intimate, introspective feel. The wistful slide intro, melodic chorus melody and Beatles style harmonies across the mid-section give this track it's unusual, unique flavour.
SANCTIFY
Heavy blues-billy boogie stomp that Troy is best known for. This song epitomises everything that Troy Redfern does best - honest heavy weight blues. John Lee Hooker riffs on steroids, thunderous bass by Dave Marks and the 'foot to the floor' drums of Darby Todd.
STONE
The closing track fades in on the vintage National guitar, a wide open 3/4 drum groove and whiskey drenched vocal. Building and morphing from an Appalachian style roots rocker to a stratospheric Joe Cocker style anthem, as the slide solo stretches out across the vast sonic horizons. The famous piano at Rockfield Studios that Queen's Bohemian Rhapsody was recorded on was used on the outro section, the final, lingering notes you hear on the album is Dave Marks playing that iconic instrument.
ON TOUR WITH WILLE & THE BANDITS
RESCHEDULED MARCH/APRIL 2022 UK TOUR
TICKETS: WILLEANDTHEBANDITS.COM
Palladium, Bideford
Friday 4th March 2022
Facebook
Lower Gunstone, Bideford, EX39 2DE
www.facebook.com/ThePalladiumClub
Old Bakery, Truro
Saturday 5th March 2022
Facebook | Twitter | Instagram
Blewetts Wharf, Malpas Road, Truro, TR1 1QH
www.oldbakerystudios.co.uk
Phoenix, Exeter
Sunday 6th March 2022
Facebook | Twitter | Instagram
Gandy Street, Exeter, EX4 3LS
www.exeterphoenix.org.uk
The Musician, Leicester
Wednesday 9th March 2022
Facebook | Twitter
42 Crafton St W, Leicester, LE1 2DE
http://www.themusicianpub.co.uk
The Flowerpot, Derby
Thursday 10th March 2022
Facebook | Twitter | Instagram
19-25 King Street, Derby, DE1 3DZ
www.flowerpotderby.com
The Bullingdon, Oxford
Friday 11th March 2022
Facebook | Twitter | Instagram
162 Cowley Rd, Oxford OX4 1UE
www.thebullingdon.co.uk
Philharmonic, Liverpool
Saturday 12th March 2022
Facebook | Twitter | Instagram
Philharmonic Hall, Hope St, Liverpool, L1 9BP
www.liverpoolphil.com
Continental, Preston
Wednesday 16th March 2022
Facebook | Twitter | Instagram
S Meadow Lane, Preston, PR1 8JP
www.newcontinental.net
Bodega, Nottingham
Thursday 17th March 2022
Facebook | Twitter | Instagram
23 Pelham St, Nottingham, NG1 2ED
www.bodeganottingham.com
Hug & Pint, Glasgow
Friday 18th March 2022
Facebook | Twitter | Instagram
171 Great Western Rd, Glasgow, G4 9AW
www.thehugandpint.com
The Cluny, Newcastle
Saturday 19th March 2022
Facebook | Instagram
36 Lime St, Newcastle upon Tyne, NE1 2PQ
https://thecluny.com
Elsewhere, Margate
Wednesday 23rd March 2022
Facebook | Twitter | Instagram
21-22 The Centre, Margate, CT9 1RL
www.elsewhere.community
Junction, Cambridge
Thursday 24th March 2022
Facebook | Twitter | Instagram
Clifton Way, Cambridge, CB1 7GX
www.junction.co.uk
The 100 Club, London
Friday 25th March 2022
Facebook | Twitter | Instagram
Century House, 100 Oxford St, Fitzrovia, London, W1D 1LL
www.the100club.co.uk
Thekla, Bristol
Saturday 26th March 2022
Facebook | Twitter | Instagram
The Grove, East Mud Dock, Bristol, BS1 4RB
www.theklabristol.co.uk
Guildhall, Gloucester
Wednesday 30th March 2022
Facebook | Twitter | Instagram
23 Eastgate Street, Gloucester, GL1 1NS
www.gloucesterguildhall.co.uk
The Greystones, Sheffield
Thursday 31st March 2022
Facebook | Twitter | Instagram
Greystones Road, Sheffield, S11 7BS
www.mygreystones.co.uk
Town Hall, Selby
Friday 1st April 2022
Facebook | Twitter | Instagram
York Street, Selby, YO8 4AJ
www.selbytownhall.co.uk
The Tivoli, Buckley
Saturday 2nd April 2022
Facebook | Twitter
Brunswick Road, Buckley, CH7 2EF
http://tivolivenue.com
The Star, Guildford
Wednesday 6th April 2022
Facebook | Twitter | Instagram
2 Quarry Street, Guildford, GU1 3TY
www.starinnguildford.co.uk
The Robin, Bilston
Thursday 7th April 2022
Facebook | Twitter | Instagram
20-28 Mount Pleasant, Wolverhampton, Bilston, WV14 7LJ
https://therobin.co.uk
Arts Centre, Bridgwater
Friday 8th April 2022
Facebook | Twitter
11-13 Castle Street, Bridgwater, TA6 3DD
https://bridgwaterartscentre.co.uk
Theatr Brycheiniog, Brecon
Saturday 9th April 2022
Facebook | Twitter | Instagram
Canal Wharf, Brecon, LD3 7EW
www.brycheiniog.co.uk
Nightrain, Bradford
Thursday 21st April 2022
Facebook | Twitter | Instagram
7, 17 Queensgate, Bradford, BD1 1RB
www.nightrain.co.uk
The Tivoli, Wimborne
Friday 22nd April 2022
Facebook | Twitter
19 West Borough, Wimborne, BH21 1LT
www.tivoliwimborne.co.uk
Ropetackle, Brighton
Saturday 23rd April 2022
Facebook | Twitter | Instagram
Ropetackle Arts Centre, Shoreham-by-Sea, BN43 5EG
https://ropetacklecentre.co.uk